Last night, Miss Eagle joined more than 300 other Melburnians at a Civil Rights Defence dinner at the Coburg City Hall.
As can be seen below, Terry was honoured.
Terry has won the admiration of many Australians for his tenacity and courage in battling for his son against not only the powerful USA but his own government. He has done this with modesty and integrity.
You make parents proud, Terry!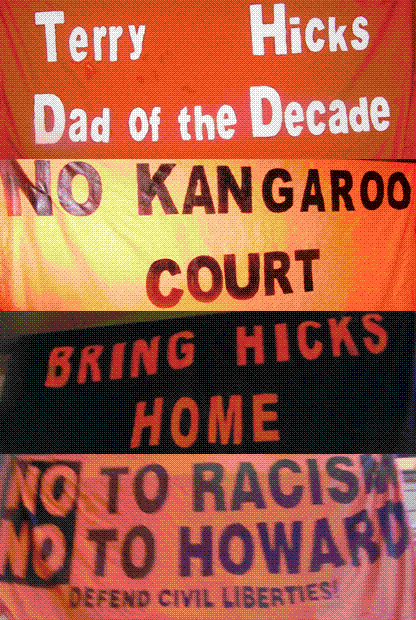 From memory, there were three standing ovations for Terry including one before he spoke!

The crowd honours Terry with a standing ovation.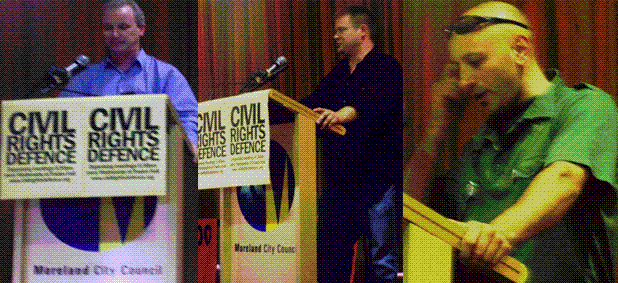 Three speakers: well known civil libertarian Brian Walters SC
Les Thomas, brother of Jack Thomas
Omar Merhi, brother of Abdulla Merhi, one of the Barwon 13
As Miss Eagle listened to the speakers, she could not help but think - as a mother of sons - there but for the grace of God go many of us.
These families are ordinary working families. The are not wealthy nor do they dwell in the halls of power and influence. They have been caught up in the defence of their children and siblings and their love and determination is something to behold.
The representatives of the Hicks, Thomas and Merhi families were saw speaking last night are fine examples not only of values Australians hold dear but of the greater family of humanity.
MAY JUSTICE REIGN
AND
MAY THESE SONS BE RESTORED TO THEIR FAMILIES
Jack Thomas with baby son Gabriel conversing with Terry Hicks.
Jack and Terry were very gracious allowing a photograph for The Eagle's Nest

An intransigent Australian Government continues to fail to lobby for the release of
David Hicks
who is continually subject to harsh, inhumane and unjust treatment by the government of the United States of America at
Guantanamo Bay
.
This shirt says it all!