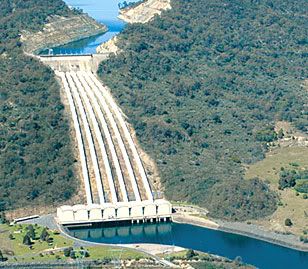 The Prime Minister has done a backflip. He has decided not to sell the Commonwealth's share in the Snowy Hydro Electric Scheme. This, Miss Eagle believes but please contradict her if she is wrong, is the first time that John Howard has done a backflip in a positive way. To be sure he has done backflips before but they have been dishonest - like the statement that there would never, ever be a GST. He introduced one. Then there are the "non-core" promises which can be broken with impunity but Howard alone knows where the "none-core" definition begins and ends.

The question needs to be asked - what took him so long. He claims to listen to Australian people but this is hogwash. He didn't listen when a quarter of a million people marched across the Sydney Harbour Bridge and many more crossed bridges across Australia asking for an apology to the First Nations of this country. He didn't listen when 100,000 people marched in Sydney against Australia's involvement in the Iraq War and when opinion poll after opinion poll made clear that Australians did not want involvement without UN support.

There are two suggestions for the turn around. One is the blunt force of radio talk-back host Alan Jones and his long established interest in water. The other is that something was afoot within the Liberal Party and there are rumours of a down and dirty meeting brokered by Malcolm Turnbull with the Prime Minister and some angry back benchers including that well-known friend of the PM, Senator Bill Heffernan.

Miss Eagle appeals to the Prime Minister's sporting instincts. How about making it a hat-trick, John. Now that you have the got the message about how the electorate feels about the great sell-off to your mates, make it three out of three. Pull the plug on the sale of Telstra. Pull the plug on the sale of Medibank Private.

OK, Miss Eagle realises no one has done the social history of Telstra or Medibank Private but both have contributed to our social development and our national values. Telstra has many unique qualities - unique among the telcos of the world, particularly the government controlled telcos of the world. Anti-competitive practices within Telstra could have been and can be rectified without selling off the family silver. At a time when American-style health economics is severely affecting Australia's health system, Medibank Private is about to be sold. Medibank Private which has been a major instrument in containing private health costs. Medibank Private which has been a major instrument in providing competition and keeping health insurance premiums from going through the roof altogether. Medibank Private which has been made so successful by so many Australians: Australians who give their support to Medibank Private above any other health fund. So go for the hat-trick, John.


Come on, Howard, come on, come on.
Come on, Howard, come on.