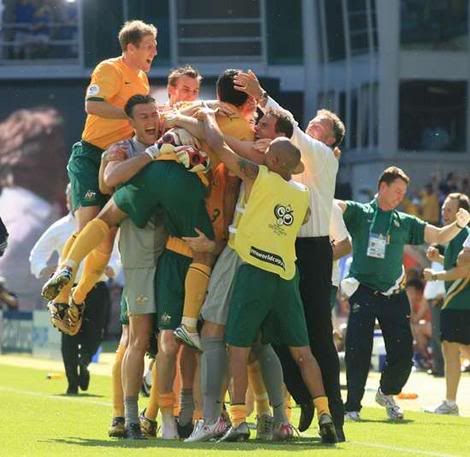 Australia has equalized against Japan in the last stages of their match - thanks to Tim Cahill. Opportunity after opportunity came as the Socceroos outshot the Samurais statistically but none were converted as Japan dominated 1-0. As Miss Eagle writes, the game is down to the last two minutes. Cahill has done it again and Miss Eagle is in tears of excitement and gratitude. Gus Hiddink is throwing himself around in ecstasy. What is going to happen with additional time?


It's a case of Hang on, Aussie, Hang on, Hang on. C'mon, Aussie, Hang On.
And hang on, we have.
As if the magic and consistent boot of Tim Cahill was not enough,
in comes Aloisi with his magic boot once again.
Beyond all doubt Aloisi takes it to 3-1.
S-t-u-n-n-i-n-g!