Hazel Mackinnon, Bob Randall's wife, is an artist and a listener. She says
Listening to people's stories, people who are relatives of Bob Randall and live in the desert region, I created the exhibition of Sculptures and Silk, The Stories of the Stolen Generation. There are a few people who can talk but most are deeply traumatised and affected by their treatment now and in the past. Our aim is to give these people a voice, for when they are heard, the healing can begin.
WAITING MOTHERS.
We cannot imagine the living hell that mothers go through waiting for their children to come back. Some mothers in their grief stricken minds visualise their child coming back as they were taken as a baby. Many, many mothers are still waiting for their stolen children.
Records of institutions are sometimes destroyed so names and histories are lost making it impossible for people to find their way home.
This is Miss Eagle's favourite piece. So poignant!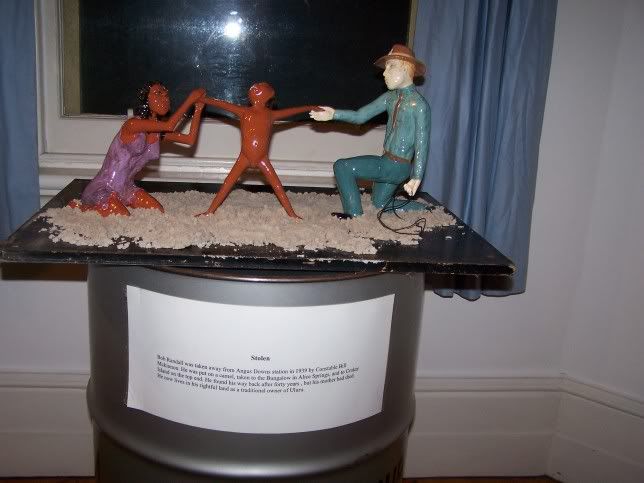 STOLEN
Bob Randall was taken away from Angus Downs station in 1939 by Constable Bill Mckinnon. He was put on a camel, taken to the Bungalow in Alice Springs and to Croker Islander on the Top End. He found his way back after forty years, but his mother had died. He now lives in his rightful land as a traditional owner of Uluru.
Miss Eagle commends Spiritual Songlines.
If you do nothing else towards Reconciliation between Settlers and the First Nations, visit this exhibition. Talk with Bob and Hazel. Glimpse the heartfelt feelings for the land and the wounds of its people. Learn how this country can transform and heal all of us if we just slow down, stop, and allow ourselves to listen and experience what has been provided for us.