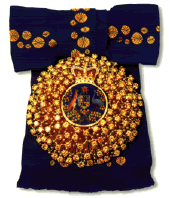 The insignia of a Companion in the Order of Australia (AC)

It's that time of year again - the Queen's Birthday honours. Now, dear Reader, this may upset you but Miss Eagle has a great deal of ambivalence about the gongs. Each year, she assiduously peruses the list in The Australian to see who has got what. And this year your correspondent expresses her feelings.

Top of the list is the AC - Companion in the Order of Australia. Since Australia abolished knighthoods, these are the coveted awards. Now, Miss Eagle doesn't know what it costs to get an AC these days but time was when a knighthood cost $100,000 or the repayment of a gambling debt. When Joh Bjelke Petersen was Premier of Queensland, it became public knowledge that Sir Justin Hickey contributed $100,000 to Kingaroy's one and only private hospital in Joh's home town. Then there is the story Miss Eagle was told many years ago about how the late Sir Peter Abeles is supposed to have got his knighthood. Apparently the transport knight was in a game at the Forbes Club - one of Sydney's illegal casinos - with the then (now deceased) Premier of New South Wales, Robin Askin. Robin Askin was in a losing streak and in debt to Peter Abeles for a huge amount of money. Askin is alleged to have said "I don't know how I can repay you." Abeles is alleged to have said "I do."

Now clearly the artist Margaret Olley did not pay for her AC. But please note, dear Reader, that Ms Olley is the token female. As far as Ms Eagle is aware there has never been more than one female on the AC list - so we can see how the achievements of Australian women are valued, can't we?

But having said that, money and political influence is not everything. Don McDonald OBE (please note he already has an imperial gong) of 'Devoncourt', Cloncurry in north-west Queensland has received an AM (Member in the General Division of the Order of Australia) for service to the community in regional areas of Queensland, particularly Cloncurry, through agricultural, transport infrastructure, political, community health and volunteer organisations. The AM is only the second-highest award below the AC. Don is a significant player in his local community and in the state of Queensland. He is a wealthy pastoralist and makes the BRW rich list. He has had a long stint as Chair of the Queensland National Party so has great influence on the conservative side of politics. In Don's case, Miss Eagle would like to know what the reason was for the OBE. Did Don get awarded twice for the same sort of work?

And what is the difference between Margaret Olley and Colleen McCullough? McCullough only received the second highest order - Officer (AO) in the General Division of the Order of Australia - for service to the arts as an author and to the community through roles supporting national and international educational programs, medico-scientific disciplines and charitable organisations and causes. McCullough isn't quite as old as Olley but she is getting on. One is significant as an artist, the other significant as a writer. In fact, one greatly significant thing about McCullough is that she showed Australian writers how to get published in the USA and make a lot more money.

Then Miss Eagle wonders whether a sort of arithmetic should come into the assessment for a gong. Miss Eagle notes that a certain South Australian broadcasting personality named Jeremy Nicolas Cordeaux has received a gong - but Miss Eagle thinks of questions raised about some of his behaviour by Media Watch. And then there is that nasty man, Shane Stone. He who introduced, with his colleague the Liberal Party pollster Mark Texta, push polling to Australia. At a time when Australia is concerned about the lives and living conditions of Australia's Aboriginal people and all sorts of racist "solutions" are coming out of the Federal Liberal Government, it needs to be remembered that Shane Stone was formerly a Country Liberal Party Chief Minister of the Northern Territory and oversaw so much neglect and dishonesty in relation to Aboriginal policies or lack of them. Shane Stone's party was the party of government from the Territory's self-government in 1978 until 2001. As a farewell present to himself, he awarded himself the Queen's honour of becoming a Queen's Counsel: all the better to feather one's nest after politics. After the Northern Territory, he became Federal President of the Liberal Party of Australia. Now surely in all that there is the ability to notch some minus points. But no, this self-interested man who played a horrible form of politics and ignored poverty and deprivation all around him has been given this nation's highest honour.

Finally, dear Reader, let me take you to the real value in the Honours List - the lowly OAMs: the Medal in the General Division of the Order of Australia. Here you will find the unsung heroes and heroines of our community life. These are the people who find the time to provide the social glue of our communities. They are always a mixed bunch: sporting umpires and referees, foster mums, office bearers in a wide variety of organisations, and more. And chances are the ones who get this gong have been doing all this for free and for a very long time. Miss Eagle remembers once seeing the name of her childhood tennis coach in such a list. Annie Hansen would not have thought of a reward such as this for what she did - and Miss Eagle doubts she got rich out of our coaching fees - but she was an institution in our country town and countless children owed a sporting interest to her efforts.

Ms Eagle sends her best wishes to all those who have given freely of their time and their skills to build the fabric and social capacity of our communities and received awards. Ms Eagle is not a supporter of awards to those who have already been paid for their work unless that work has contributed at a quite unique and innovative level. Talent and genius should always be rewarded. What a pity that the list gets corrupted with sycophants, would bes if they could bes, retirement rewards, or people who have only differentiated themselves by staying around for a long time.