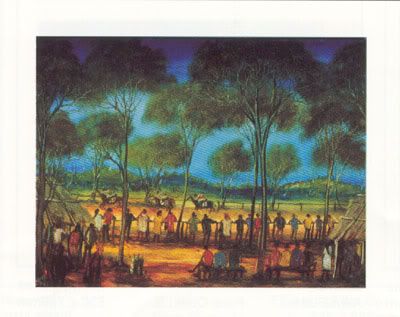 The Three Horse Race by Pro Hart
One of Australia's greatest brushmen of the bush is dead. Pro Hart, a commited Christian, has gone to another place.

Pro Hart was born in Broken Hill, NSW, Australia in 1928. He grew up on the family sheep station "Larloona" situated near Broken Hill, and he was educated by correspondence with this brother Bob, and their mother as tutor. In his early twenties, Pro moved to Broken Hill and worked underground as a miner. In 1960 he married Raylee June Tonkin and they had five children, three boys and two girls. To develop his gift, Pro attended a few local art classes but he was mainly self-taught. He was discovered in 1962 by a gallery director in Adelaide. From there his success as an artist began to flourish. Pro was nothing if not prolific. This together with his longevity has meant that the prices of his paintings were not governed by exclusivity. Even working class Australians could stretch things a bit to own a Pro Hart, even if it was only a small one.

People who loved the Australian bush and the lifestyle and the mystique of The Outback loved Pro Hart's work. He brought life and love to the depiction of our country. In fact, like his Maker with whom he now rests, he is truly a creative spirit.